Challenge:
Abode, a startup real estate client, needed a web based property search tool
Solution:
I developed and delivered a multifaceted search tool to address multiple user groups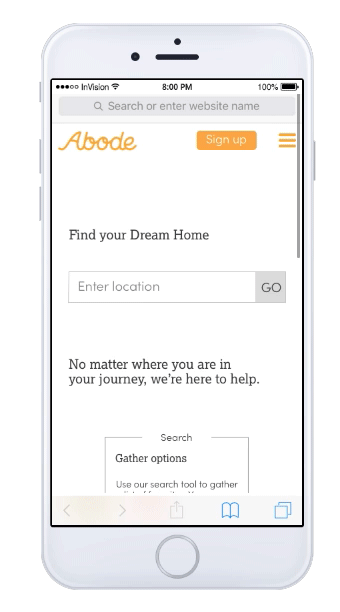 Abode's goal is to provide assistance to homebuyers at every stage of the home buying process by leveraging data and AI powered by
Watson
. However, they did not have a way for clients to search for homes. Our solution utilized 
multifaceted search
and
data-driven recommendations
to help users find homes and connect them with Abode brokers.
Redfin
was a key competitor in the property search space but our research showed that their brokers were not perceived as high quality. Based on competitive research, we determined the basic patterns to follow and developed consistent content to include.
Our challenge was to utilize research to establish a hierarchy
to make our tool cleaner and more effective than competition.
Initial research yielded the following:
Neighborhood level data is good; block-by-block insights are better
Redfin is a great search tool, but brokers are perceived as low quality
Users want control over their own process
It's a stressful process and users are looking for reliable tools
Two categories of users emerged:
We determined that we could leverage the AI to differentiate between exploratory and serious users based on their site interactions. Our goal was to curate more personalized experiences based on user type.
With those two user groups in mind, we established the problem we needed to solve:
How do we curate the search process to satisfy all stages of home buyers, with comprehensive local results that will encourage Abode account creation?
From a
strategic perspective
Abode is unique in the real estate market because Adobe will:
Address the explorers
. Existing property search tools do not provide the flexibility to accommodate the unaddressed user group.
Become local experts
. By combining a trustworthy search tool with property insights, Abode can provide detailed information about properties and neighborhoods.
Provide an end-to-end solution
. Though there are many property search tools, there are no current services that provide resources for the entirety of the home buying process.
One principle we explored early on was
progressive disclosure
. We knew that our search filter would need to be robust for the more serious and seasoned users, but at the same time we didn't want to overwhelm the exploratory users with too many options.
As we had two user groups to engage, we developed an exploratory search function in addition to the more conventional search process.
The organization of information was crucial to ensure improvement on existing tools, so we conducted card sorting to verify assumptions and existing patterns for the search filter and listing page.

Though priorities varied slightly between individuals, clear areas of overlap emerged.
With participants who represented both exploratory and more serious users, we tested types of search, broker entry and account creation incentives.

Prompting the user to connect with an Abode broker was a sticking point for users who had previous relationships with brokers. Our
research supported the personal nature of the broker-client relationship, which we had to balance in relation to our client's business needs
. By timing the prompts correctly, users with brokers were not bothered by prompts, and users without brokers were open to suggested brokers.
The gamified elements of our design were particularly well received by explorers.

More serious searchers had fun with those options, but used the wishlist to curate more specific search results while using the traditional search.

Testing garnered the following feedback:
Exploratory searchers enjoyed the gamified explore feature
Broker prompts were most welcome on the favorites page
Users were happy to create an account to favorite properties
Users wanted to anchor their searches to a location, regardless of their stage in the process
Users enjoyed creating a wishlist of home qualities
In order to best communicate our ideas and progress with our client, we utilized an annotation format.

The challenge of this project was to
resist the urge to reinvent the wheel
. As much as we wanted to improve on property search tools, we had to balance that desire with current conventions and user expectations. This was a good lesson for me to understand how to balance the temptation to invent the most effective process while abiding by current standards and
meeting users where they are
.